Kylian Mbappé iba a fichar por el Chelsea a sus 13 años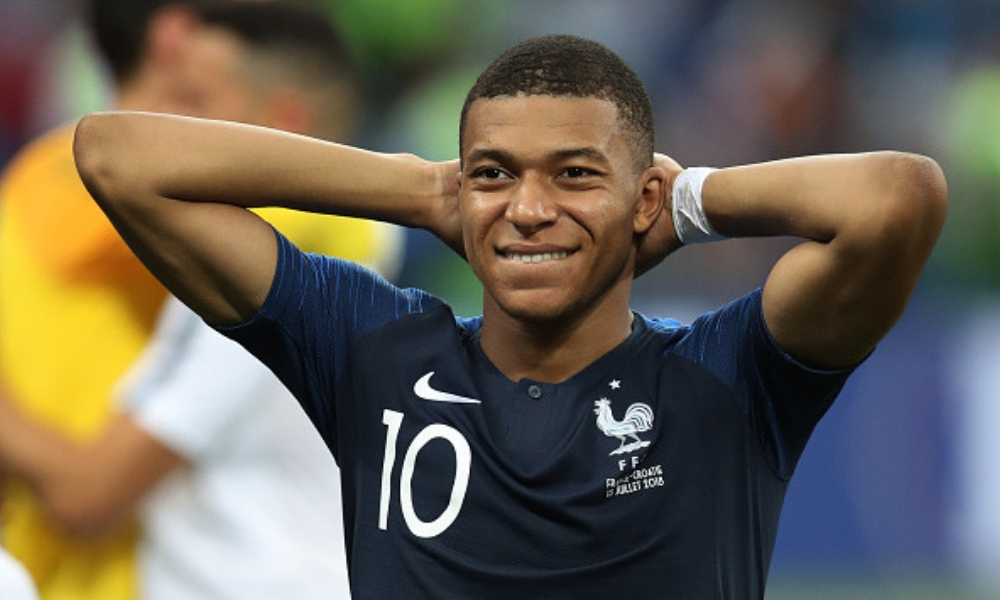 Uno de los jugadores más importantes de la Selección de Francia no ha tenido una carrera nada fácil, pues el delantero Kylian Mbappé iba a fichar por el Chelsea antes de que fuera una estrella en el futbol.
Este joven de 19 años tuvo la oportunidad de vestir una de las playeras más importantes de la Premier League, pero un "no" rotundo lo alejó de fuera del futbol inglés.
Cuando el francés buscó una oportunidad de pertenecer a Chelsea, gracias a la ayuda del ex jugador de los Blues; Serge Daniel Boga, quien buscó apoyarlo para que fuera fichado por el equipo Stamford Bridge, fue rechazado por no tener características defensivas.
Te puede interesar: Kylian Mbappé igualó a Pelé
Todo inició cuando el jugador aún no existía en el mundo del futbol.
Según un el diario The Sun, Mbappé tenía 13 años cuando llegó la oportunidad de probarse con el equipo de Inglaterra gracias a Boga que lo llevó a Londres para que perteneciera al Chelsea, pues veía un buen juego en el joven francés.
En su primera prueba con el Chelsea dejó maravillados a los evaluadores por su gran dinamismo futbolístico, su olfato goleador y su velocidad, pero no fue suficiente para quedarse en Londres, pues la familia fue una barrera y Chelsea tenía dudas sobre el jugador.
La familia fue parte fundamental para que el delantero francés no fuera fichado en 2013 por los Blues.
Sin embargo, en una segunda cita del Chelsea, donde se evaluaría su capacidad defensiva, al no convencer al cien por ciento a los Blues, Mbappé no asistió, ya que intervino la madre del jugador y le dijo al club que se arrepentiría en un futuro por no contratar a su hijo.
También puedes leer: Kylian Mbappé donará todas sus ganancias del Mundial
'Dicho y hecho', las palabras de la mamá fueron ciertas.
La madre de Mbappé fue la encargada de quitarle las dudas a Chelsea, al ver que su hijo no convenció a los Blues diciendo lo siguiente:
"Mi hijo no va a volver. Si lo quieren tienen que fichar ahora o luego, años más tarde, tendrán que ficharlo por unos 50 millones de euros", aseguró la madre de Mbappé de acuerdo a la información de The Sun.
Una situación que afirmó Daniel Boga al diario Goal diciendo que él fue el responsable de llevarlo a Londres para que fuera hacer pruebas con Chelsea y que creía que se iba a quedar.
"Lo traje con su familia y era habilidoso como lo es ahora. Tras una semana con nosotros, le dijimos que queríamos que volviese para una nueva prueba, pero la mamá se interpuso con condiciones", señaló Boga en una entrevista con Goal.
Te recomendemos: Pelé amenazó a Kylian Mbappé con salir del retiro
De este modo fue como Kylian no logró ser fichado por la escuadra inglesa.
Todo empezó porque el joven francés no tenia características defensivas, un aspecto que era muy evaluado por el Chelsea.
"Él era muy habilidoso, pero en Inglaterra quieren ver a jugadores que trabajen duro. En ese momento él no era así.
Defensivamente, no había llegado a ese punto. Cuando tenia la pelota era increíble, pero son ella no se esforzaba demasiado," destacó el ex jugador de los Blues, diciendo el por qué no fue contratado por el equipo inglés.
Otra opción: Air Jordan vestirá al PSG
Años después de esa experiencia para Kylian Mbappé, él se ha convertido en uno de los jugadores más deseados por todos los clubes del mundo.
Y lo que dijo su madre al Chelsea se hizo realidad, pues su costo pasó de 20 mil euros (valor que tenía en 2013 cuando podía ser comprado por los Blues) a un valor de más de 50 millones de euros.
Actualmente, gana el jugador de 19 años una cantidad de 180 millones de euros, tras coronarse campeón del mundo en Rusia 2018.