Andrew Sendejo de los Vikings lanzó un mensaje a la NFL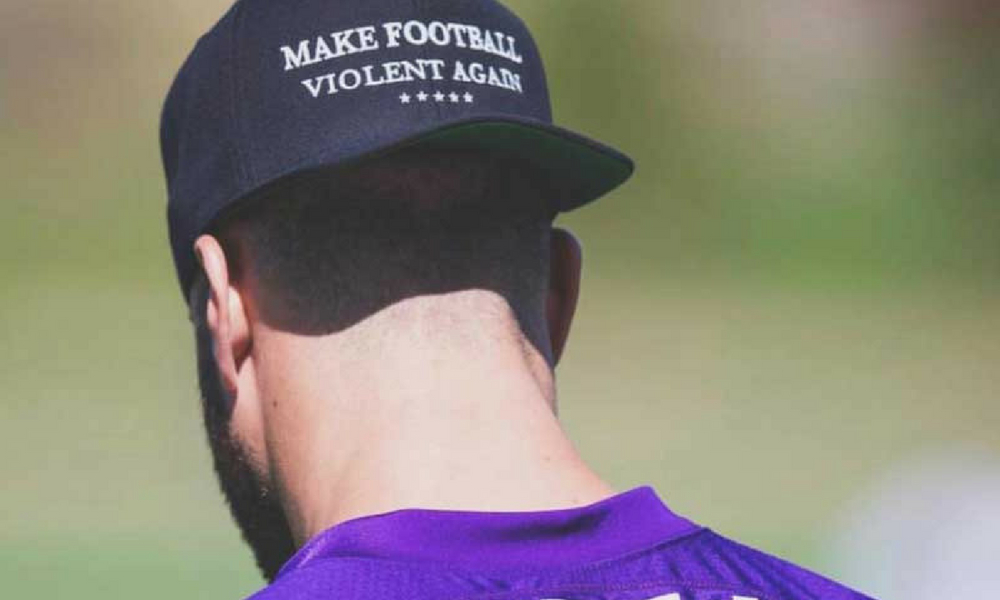 El profundo Andrew Sendejo de los Vikings, se manifestó en contra de la nueva regla de contacto con casco que se implementará esta campaña. El jugador usó una gorra con la leyenda "hagamos al futbol americano violento otra vez" durante un entrenamiento como muestra de protesta.
Te interesa: EA Sports se disculpó por censura a Kaepernick en 'Madden 19'.
La nueva regla de casco se introdujo en marzo y tiene una penalización de 15 yardas, además de posibles multas o expulsiones, por liderar o iniciar el contacto con sus cascos. Sendejo comentó que ya lleva tiempo utilizando esa gorra y destacó que cree que los jugadores veteranos de la liga no están protegiendo el juego.
Andrew Sendejo también publicó una polémica foto en sus redes sociales en la cual tiene un casco modificado un dos barras para evitar penalizaciones: "Hice alteraciones a mi casco, así que siempre estoy golpeando con la máscara", publicó.
Made helmet alterations so I'm always "leading with the facemask". Simplifying calls for league office and playing within new @NFL rule changes.

Next. pic.twitter.com/xYeaWYllPr

— Andrew Sendejo (@Asendejo) 3 de agosto de 2018
El safety sabe lo que es ser suspendido por golpes ilegales. En 2017, dio un duro golpe al receptor de los Ravens, Mike Wallace, y lo envió al protocolo de conmoción cerebral. A principios de esa misma temporada, Sendejo recibió una multa de casi $25 mil dólares por un golpe en la cabeza del ala cerrada de Tampa Bay, Cameron Brate.
Andrew Sendejo de los Vikings, no es el único jugador de la liga que ha mostrado su desaprobación a esta regla que muchos ven como una invasión al juego. El linebacker de los Bears, Roquan Smith, declaró que no piensa firmar su contrato de novato hasta que se elimine una cláusula del acuerdo en la cual él perdería dinero en caso de ser multado un número especifico de veces por esa regla.